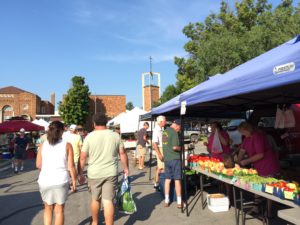 Get the freshest produce in town by visiting the Downtown Lee's Summit Farmers Market, located at the corner of Second and Douglas streets in Downtown Lee's Summit. The Market is open from 7 a.m. to sell-out Wednesdays and Saturdays, and is made up of more than 50 vendors featuring a variety of fresh produce, plants, meat, baked goods, handmade goods and much more. The market is open April 1 through Nov. 18, 2017. Convenient parking can be found in the lot next to the Farmers Market on Douglas Street, or at the City Hall parking garage at the corner of Second and Green streets.
Special Event Dates:
The Downtown Lee's Summit Farmers Market has been named the No. 1 Farmers Market in the state of Missouri by the America's Favorite Farmers Markets contest hosted by American Farmland Trust  six years in  row. The Downtown Lee's Summit Farmers Market has been in existence for more than 20 years and is managed by Downtown Lee's Summit Main Street.
This year's vendors:
ABM Green Team
Ashleigh's Bake Shop
Barefood'n Happy
Beckner's Orchard
Bennett Family Farm
Booz'n Cruz'n BBQ'n
Butterfly Fields
Conger LLC
Dale Denker
Dang's Gardening
DeLYEteful Soaps and Body Care Products
Dragonfly Farm
Dusselier Farms
Farrar Family Farm, LLC
Flavor Mkt
Fogle Farm LLC/Rock the House Bakery
Gary's Farm
Great Harvest Bread Co.
GREAT Program
Greenwood Garden Organics
Hall Farms
Happy Farms/Fresh From the Field Farms
Harvest Moon
Hi Ho Sheep Farm LLC
Hope Rising Farm
Jim Watrous
La-La-Andy Groumet Mushrooms
Larksmeadow Farm and Mt Hope Farm
Mark Davis
Mark Still
Natural Farm Soap
Nolt Produce
Post Coffee Company
Randolph Farms
Red Hen Bread
Red Ridge Farms
Rogue Homestead
Ron and Audrey Smith
Rosco's Fresh Cut Flowers
Shurmantine Farm
Snikta Farm LLC
Somerset Family Farm
Stock Ranch Beef
Thao Produce
The Gourmet Granny
Timberline Farms
Where the Redfearn Grows Natural Farm
Wild Alaska Fish Company
Wolf Creek Family Farms
Yoder Farm
Our 2017 vendors have been selected. If you have questions or would like to be considered as a vendor for next year, please contact Ashley Nowell at ashley@downtownls.org or 816-246-6598. Some daily spots are available. Please review and complete the application and return to Ashley Nowell if you are interested in being a daily rate vendor.
Sponsors
presented by:

sponsored by:


Other helpful links:
Local Harvest Calendar
AgriMissouri
Missouri Farmers Market Directory