Passionate art enthusiasts in the Lee's Summit area have come together to create RestART (pronounced Rest-Art) Lee's Summit. The goal of RestART, with help from Downtown Lee's Summit and local arts organizations, is to bring more public art to the streets of Downtown Lee's Summit. RestART has formed as a subcommittee of the Cultural Arts Committee of Downtown Lee's Summit Main Street.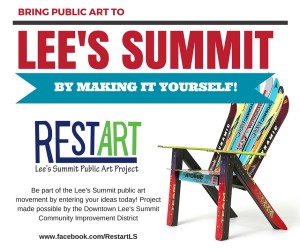 "Public art has always been a passion of mine," said committee co-chair Hollie Couch. "I believe we are finally making headway on bringing that vision to reality in Lee's Summit."
Project Highlights:
Up to 15 pieces of public art will be selected for creation and placement in Downtown Lee's Summit
Art pieces will be reimagined 'seats' made from repurposed seating or fabricated from other materials
Art pieces will remain in Downtown Lee's Summit from April through June 2016
An auction of the 'seats' will be held in June and proceeds will be shared by the artist and a fund benefitting future art projects
Artists will receive a stipend for supplies to create their 'seat'
Monetary prizes will be given to three winners: people's choice, best entry – artist or group, best entry – student artist or group
Early deadline for artist proposals is December 9, with an extended final deadline date being announced soon
Project Details:
Artists will create imaginative 'seats' made partially from repurposed or recycled materials, which will be installed along the sidewalks and in the shops of Downtown Lee's Summit. Seats may be reinterpreted with paint or other embellishments, or new and unexpected forms of seating may be created by fabricating other materials into seating. We welcome the unconventional!
For More Information:
For complete rules and guidelines to enter a 'seat,' please refer to the Facebook page (www.facebook.com/RestartLS) for submission information.
Events Calendar
February 21 @ 6:00 pm
-
8:00 pm
February 22 @ 12:00 pm
-
2:00 pm
February 23 @ 12:00 pm
-
2:00 pm
Follow Us On Twitter
Happy Presidents Day! Truman's political career started in 1922 with his announcement to run for Eastern Judge of… https://t.co/RK7pJZgu7D
RT @BikeWalkKC: Kudos & congrats to @DowntownLS for investing in these awesome bike racks! Want to get some for your business/neighborhood?…