The Downtown Days Festival is coming up this weekend! This event is the main fundraiser for Downtown Lee's Summit Main Street and helps make so much possible downtown. The festival takes place June 3-5, 2016. As a 501c3 nonprofit organization, DLSMS relies on fundraisers to help fund many of its events and programming, allowing us to promote Downtown Lee's Summit throughout the entire year. We have planned an exciting event this year with the goal of drawing thousands of people to our downtown and provide the community with a festival filled with fun for everyone.
We have some important information to pass on to you regarding street closures:
TUESDAY, MAY 31 : At

5 p.m.

, the public parking lot located at Third Street next to Arnold Hall and the public parking lot on Douglas next to Heart of America Dance Studio will close. Carnival rides will begin moving into the Arnold Hall parking lot at

5 p.m.

and the White Tigers will arrive that evening to the parking lot on Douglas next to Heart of America Dance Studio. Please encourage your customers and staff to park in the City Hall parking garage located at Second and Green.

WEDNESDAY, JUNE 1

: Green Street from Second to Fourth Streets, and Third Street from Green to Douglas Streets will close at

5 p.m.

This is where all the carnival rides will be, as well as in the Arnold Hall parking lot.

THURSDAY, JUNE 2

: All other streets (between Green and Jefferson Streets, and Second to Fourth Streets) will close at

noon

. Please plan accordingly for deliveries to be completed before

11 a.m.

Thursday, June 2

, as access will be limited during the festival.

SUNDAY, JUNE 5

: All streets will remain closed until approximately

8pm

on

Sunday, June 5

.
Downtown Days is expected to draw crowds of approximately 100,000 people to our downtown, which is an excellent opportunity to showcase downtown and its amazing businesses! We do understand, however, that street closures and limited storefront access can create challenges for your businesses. We hope you understand the benefits this festival has for our downtown, and we look forward to celebrating with you the first weekend in June!
For a full schedule of events, visit our websitewww.LeesSummitDowntownDays.com. Please do not hesitate to contact our office with any questions or concerns.
Events Calendar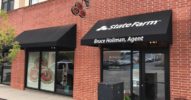 January 18 @ 8:30 am
-
9:30 am
January 20 @ 10:00 am
-
January 21 @ 4:00 pm
January 21 @ 4:00 pm
-
7:00 pm
Follow Us On Twitter
RT @NWSKansasCity: In a effort to give the snow lovers out there the snow they desire we will offer up this stat: It has been 1438 days (2/…