Downtown Lee's Summit will host its monthly Fourth Fridays Art Walk on Friday, August 26, 2016 from 5-8pm. This month's theme is "Art in the Alleys" and will feature outdoor activities and art exhibits for all ages.
Interactive Art Classes & Workshops:
Friday, August 26 from 5-7pm
Interactive art classes and workshops will be available for all ages throughout the night of the event.
Get tips from professional artist, Ivey Schleisman, about drawing buildings and using perspective in your sketches. The Downtown Lee's Summit skyline and historic buildings will make a great backdrop for this interactive class. The first 50 attendees to check-in to the Guided Building Sketch class at the Downtown Lee's Summit Main Street Office (13 SE Third St.) will receive a free sketchbook, drawing pencils, and kneaded eraser.
Head to the alley behind Blue Heron Design to participate in the Painting with Light workshop. Participants will be given magnetic LED lights to toss at metal sheets, which will act as the canvas in this art class. See how each person contributes to the 'painting' and watch how it transforms over the course of the night.
Got Art Gallery will host a community painting project in the alley just East of their location on Third Street. An image of the well-known Hartley Heart will get a pop art makeover and you can help paint it! This paint-by-numbers workshop will allow community members to join together in making a unique piece of artwork.

Art Exhibits:
Friday, August 26 from 5-8pm
Art Affects, LLC (305 SW Market St. #2)
Nicole Book, art therapist
Blue Heron Design (11 SE 3rd St.)
Deb Pellicano of The Screaming Elf, fantasy art & Emily Brock of Burned Beauts, wood burned goods
Freeland Photography (320 SE Douglas St.)
Scott Beck, photography
Fossil Forge (317 SE Main St.)
Jay Helland, furniture and woodworking
GOT Art Gallery (18 SW 3rd St.)
Joan Gloor, Carole Gray & Joyce Robinson, group show: Now & Then
Konrad's Kitchen & Tap House (302 SW Main St.)
Adam Lock, hand drawings
The Space at The Noticed Network (14 ½ SW 3rd St.)
The Step Forward Program, Rainworks rain art
The Peanut (219 SE Main St.)
Kristy August, painting
Red Door Wine Store (229 SE Main St.)
Paula Loe of La Te Da Beads, jewelry artist
Stuey McBrew's (321 SE Main St.)
Stephanie Pross, watercolor and ink paintings
Alley Artist (between 10 and 12 SW 3rd St.)
Thomasine Weber, photography on metallic paper
More information on can be found on the Fourth Fridays Facebook page at http://www.facebook.com/fourthfridaysLS.
Fourth Fridays Art Walk is sponsored by the Lee's Summit Arts Council and Truman Heartland Community Foundation.

Other special events happening in Downtown Lee's Summit the weekend of Friday, August 26:
Fall Open House
Friday & Saturday, August 26-27
Come Downtown and see all of the new fall merchandise our stores are offering! Stock up on the latest trends in clothing, home décor, jewelry, and much more. Shoppers can also enter to win a Downtown Lee's Summit shopping spree.
Plein Air Paint Out
Friday, August 26 | 5pm-8pm
Painters will take the streets to paint everyday scenes of historic Downtown Lee's Summit. A panel of judges will pick the winner shortly after 8pm and the public is welcome to attend the judging at Got Art Gallery. The winner's piece will be featured in the Fall Invitational Exhibit at Got Art Gallery and two $50 cash prizes will be awarded. Pre-registration is required for participants and can be done by contacting Darla Zook at darla@darlazookartists.com. This event is sponsored by Got Art Gallery, Missouri Valley Imptressionist Society, and Downtown Lee's Summit Main Street.
Big Alley Pop-Up Event
Friday, August 26 | 5pm-6:30pm
Cameron's Home Furnishings is hosting an alley pop-up shop directly behind their store. Vendors include Swagger KC, Lu La Roe, and more.
Music in the Park
Friday, August 26 | 6:30pm-10pm
Enjoy a free Friday night concert featuring Lithium Lightz at Howard Station Park. Guests are encouraged to bring lawn chairs and/or blankets for seating. Music in the Park is sponsored by The Lee's Summit Journal, Bank of Lee's Summit, University of Central Missouri – Lee's Summit, and Amtrak Missouri RiverRunner.
GLOW Yoga in the Streets
Friday, August 26 | 9pm-10pm
Yoga in the Streets takes place at City Hall Plaza in Downtown Lee's Summit. Yoga instructors from downtown yoga studio, Good Life Yoga and Tea, will guide the yoga practice, which is for all ages and all ability levels. Bring your own yoga mat and glow jewelry will be provided.
Events Calendar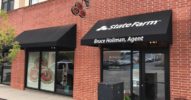 January 18 @ 8:30 am
-
9:30 am
January 20 @ 10:00 am
-
January 21 @ 4:00 pm
January 21 @ 4:00 pm
-
7:00 pm
Follow Us On Twitter
RT @NWSKansasCity: In a effort to give the snow lovers out there the snow they desire we will offer up this stat: It has been 1438 days (2/…