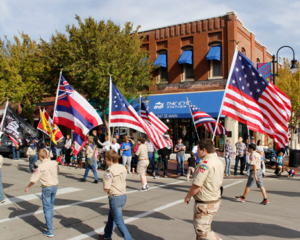 The national small business movement, Independent We Stand, announces the Top 10 semifinalists, including Downtown Lee's Summit, in the 2017 "America's Main Streets" contest. As the lifeblood of our cities and towns, Main Streets play an important role in the long-term success of communities and help build a sense of place. Downtown Lee's Summit, advancing to the Top 10, is one step closer to the grand prize of $25,000.
Downtown Lee's Summit Main Street was founded in 1989 by a group of visionary business, civic and city leaders to revitalize the heart of their community. At the time, there were 19 empty storefronts and a cycle of disinvestment. Today, Downtown Lee's Summit Main Street hosts over 100 days of community events, drawing hundreds of thousands of people each year to a now thriving and vibrant downtown that is home to over 100 locally-owned businesses. Volunteers donate thousands of service hours each year to help ensure that Downtown Lee's Summit continues to serve as the business and cultural hub of the community and a premier destination for entertainment and shopping in the Kansas City metro.
"The 'America's Main Streets' contest is the perfect opportunity to highlight how important Downtown Lee's Summit Main Street is to our community," stated Donnie Rodgers, Jr., Executive Director of Downtown Lee's Summit Main Street, Inc. "We've come such a long way in the last 28 years, from over 19 vacant storefronts in 1989 to nearly 100% occupancy today. It wouldn't be possible without our amazing volunteers, business owners, and the unwavering support from our community. We are truly honored to be named one of the best Main Streets in America and hope that we can serve as an example to others of the awesome power of the Main Street Approach® in transforming the heart of our community."
The semifinalists in alphabetical order are:
Bridge Street | Ashtabula, OH
Brookhaven Main Street | Brookhaven, MS
Downtown Lee's Summit | Lee's Summit, MO
Downtown Main Street, Red Wing | Red Wing, MN
Downtown Rochester | Rochester, MI
Elizabeth City Downtown | Elizabeth City, MN
Hayward Main Street | Hayward, WI
Historic Downtown McKinney | McKinney, TX
Main Street DeLand | DeLand, FL
John Front Street | St. John, WA
The winner of the 2017 "America's Main Streets" contest will be announced June 5, followed by a "Main Streets Make Us Better" celebration on the Fourth of July, when the winner will announce how the prize money will be utilized.
Contest prizes include:
$25,000 grand prize
STIHL Equipment Certificate for $1,000 worth of STIHL equipment, good at any STIHL dealer in the U.S.
Do it Best Corp. $500 shopping spree
PPG Pittsburgh Paints $500 shopping spree
SnapRetail $1,300 subscription package
Public relations and social media recognition
Alignable small business social media "Neighborhood" on the site
Special plaque for winner to proudly display
Events Calendar
Follow Us On Twitter
RT @KrissKringle: It's my final visit of the year to @downtownls today from 2-4 p.m. at the Lee's Summit Historical Society & Museum. Bring…