The National Main Street Center, Project for Public Spaces, and ioby hosted the Cultivating Place on Main Streets Crowdfunding Challenge to award matching dollars to proposed placemaking projects in 5 states that focused on activating community spaces. Downtown Lee's Summit Main Street, a 501c3 nonprofit organization focused on the preservation of historic Downtown Lee's Summit, was selected as one of the pilot communities for this crowdfunding challenge. Funds for the placemaking project will be raised from public support through a crowdfunding campaign with the first $1,500 to be matched by ioby.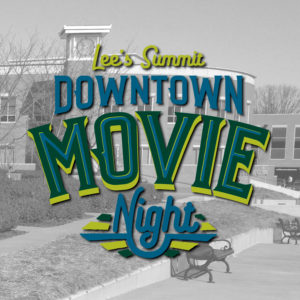 After receiving approval of the project, Downtown Lee's Summit Main Street is excited to announce Downtown Movie Nights, to include three outdoor movie nights this summer that would be free to the public. The event will be hosted on the steps of City Hall Plaza once a month during evening hours and will activate an under-utilized area in our downtown.
Each movie night will feature a classic movie appropriate for all ages. Attendees will be encouraged to bring blankets, chairs, and picnics to enjoy during the event.
The crowdfunding campaign will be open to the public on Wednesday, April 19. Donations can be made online at the following link: bit.ly/DTLSmovies.
"Every dollar helps," said DLSMS Assistant Director Ashley Nowell. "We were very excited to be chosen for this pilot project and hope that the community will rally around this event that people have been asking us to plan for years."
If the funds are raised and the summer movie series is well received, Downtown Lee's Summit Main Street will continue to host this event in subsequent years, with the hope of incorporating the series into the future performing arts and farmers market pavilion space downtown.
The movie night dates are as follows:
Thursday, July 27 | 9PM, sponsored by Midwest Property Resources, LLC
Thursday, August 24 | 8:30PM, sponsored by Arvest Bank
Thursday, September 28 | 8PM, sponsored by Douglas Auto and Tire
For more information on this and other Downtown Lee's Summit events, visit www.downtownLS.org/events.
News Release Downloads:
Events Calendar
February 21 @ 6:00 pm
-
8:00 pm
February 22 @ 12:00 pm
-
2:00 pm
February 23 @ 12:00 pm
-
2:00 pm
Follow Us On Twitter
Happy Presidents Day! Truman's political career started in 1922 with his announcement to run for Eastern Judge of… https://t.co/RK7pJZgu7D
RT @BikeWalkKC: Kudos & congrats to @DowntownLS for investing in these awesome bike racks! Want to get some for your business/neighborhood?…