Looking for a one-of-a-kind commercial space? Look no further…It All Starts Here!
Historic commercial building for sale for $1,110,000 with ideal Downtown Lee's Summit location. This 11,000 sq. ft. historic property is listed on the National Register of Historic Places and has stable base income history and untapped potential future income generation. The entire building was recently renovated, with restored original features including brick walls, wood and tin ceilings and original wood floors. Bottom level is separated into a 3,200 sq. ft. retail space and a 2,800 sq. ft. retail/commercial space that can be combined into a 6,000 sq. ft. space if desired. Second floor features 5,000 sq. ft. with 16 office suites, conference room, kitchen/break area, men's and women's bathrooms, copier room and data/phone closet.
Contact Rick Halterman, Keller Williams Realty, Key Partners LLC. 816-803-0040 or
rick@haltermangroup.com
.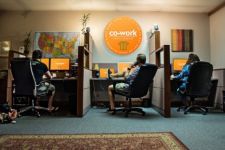 Situated in the heart of the historic downtown Lee's Summit district, this space is exceptional for anyone needing coworking office space in the southeast Kansas City region. -Everyone is welcome -Cool office space in the heart of historic downtown Lee's Summit -Shared open desks, private offices and multi-office suites -Collaborate, network, create with creative energy -Great for freelancers, telecommuters, small businesses and startups -Reasonable rates and no long-term commitment required -Walking distance to dozens of dining, drinking & coffee establishments -Common space with kitchen and conference room Oh, and we almost forgot to mention… 24/7 access, utilities, wifi, desk, chairs, foosball, kitchenette, open meeting areas & rooms, weekly cleaning, clean restrooms, physical mailbox address (with private offices and suites). For pricing and contact information, please visit
http://www.coworkls.com/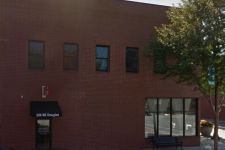 Attorney office space available in 229 SE Douglas St., Suite 210. One office open in an office suite sharing environment. Includes receptionist, internet, utilities (not phone), kitchen area, and access to conference room. $900/mo Contact Tim (816) 434-6610
Professional co-working space now available for virtual, satellite or part-time office space. Private offices and conference room available at hourly, half-day and full-day rates. No long term lease, only pay for what you need. For more information, visit
http://www.prosuites.space
or contact us at (816) 875-5293.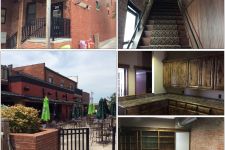 Office Space
♦ 1,500 to 4,510 sf, 11 offices, 2 conference rooms, break room and reception
♦ 2nd floor office space at the corner of 3rd Street and Douglas in the heart of historic Downtown Lee's Summit
♦ Downtown Lee's Summit provides a wide variety of unique shops, restaurants and everyday businesses
♦ Directly above the new Llwelyn's Restaurant and Bar
♦ Private entrance and exterior balcony
♦ Lease Rate: $14.95/sf net of janitorial, gas and electric
Michael L. Vanbuskirk 816.512.1010
mvanbuskirk@ngzimmer.com
Justin Beal 816.268.4241
jbeal@ngzimmer.com
Brochure:
http://downtownls.org/wp-content/uploads/Office_301-309-Douglas-St.-Email.pdf
Garage space available for rent behind 330 SE Douglas St. Non-retail storage 449 sqft of space Has garage door with code opener $450.00/month Please contact Dionne at 816-524-0404
Retail/Office Space for Lease
301-317 SE Douglas Street
-Retail and office space
-Corner of 3rd and Douglas in the heart of the newly renovated Downtown Lee's Summit
-809 to 8,067 SF available
-Lease rate: $13.95 NNN to $14.95 NNN
Contact:
Michael Vanbuskirk: 816-512-1010 or
mvanbuskirk@zimmercos.com
Jessica Perryman: 816-268-4249 or
jperryman@zimmercos.com